Home Page
Introducing KoolTop(R) .... the next generation of koozies.
KoolTop(R) provides the best opportunity to promote your product or service with more space for your advertising message and identifiable corporate logo than your basic "run-of-the-mill" koozie.
Its unique, patent pending, top flap covers the beverage container providing additional cooling, and protection against beverage contamination, such as dirt, blown sand or hornets and bees.
Constructed of the highest grade of neoprene, available in over thirty colors, with secure Velcro closures, the KoolTop(R) is well-constructed, providing a long-lasting, quality platform for your advertising message, logo and graphics. Use this product as a mobile billboard to promote your new and exciting products to the largest of crowds.
KoolTop's(R) unique design makes other can-style koozies obsolete.
CALL OR EMAIL TODAY FOR A QUOTE. (704) 608-0061 / info@kooltop.com.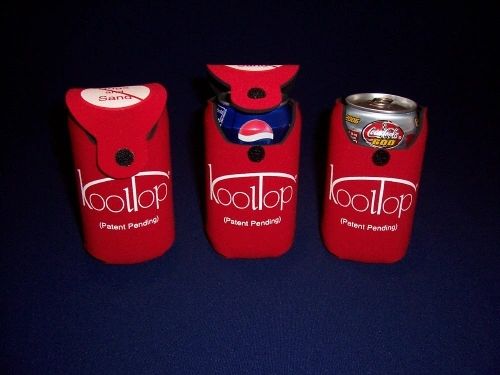 | | | |
Copyright © 2005 KoolTop, All Rights Reserved.